Well, of course – why not! Every month since March has been jumbled into our 'new normal' world.
Numerous holidays and milestones should have been celebrated with family and friends, with the most recent – 4th of July. We have all learned to adapt, realign, adjust, and PIVOT.
For some, Christmas is a time of joy and celebration. Christmas is an opportunity to focus on the source of our HOPE. And, the magic and the wonder of the Holiday Season can certainly stay with us throughout the year!
Focusing on Hope and Happier Times, we are delighted to share a Paradise 2 for 1 Celebra-cation™, with our special resort partners ~ Palace / LeBlanc Resorts – located throughout Mexico and the Caribbean. The value is exceptional – buy one room, receive an additional room for same duration free! The only 'catch' – travel by December 20 this year. And, raise your hand if YOU need a Celebra-cation™ now!!
I traveled to Cancun 2 weeks ago – it was marvelous! This is my 'normal', and it felt awesome to be able to do what I do – what I'm passionate about. Safety and health protocols in check throughout the entire journey – no problemo! And, next week I'm off again to Cancun for work and cannot wait!
After months of staying home during the pandemic, we are finally starting to see some renewed interest in travel. We know our clients need to make informed decisions on their travel plans more than ever, which is one of the reasons we are also slowly easing into traveling. We receive and manage daily updates per each destination about reopening and protocols for health and safety. You will find this filled with educational content, insider tips, relevant updates, and product offers exclusively designed for you. We would like this newsletter to be a value for you with insider tips, relevant updates, and exclusive offers for you. Please do not hesitate in sharing your feedback and suggestions to help us improve.
There is often beauty in everyday moments, only if you look for it. While the world around us continues to change, we take a moment to savor life's simple pleasures. Wherever you are we hope you enjoy these simple reminders about living a mindful and healthy life – and finding the beauty. Mindful of the simple joy that food provides – the tastes, smells and family recipes that can take us back in time. Staying healthy with at-home wellness practices to relax your muscles, stimulate blood circulation and exfoliating your skin. Ahhhh-SPA!
Celebrate Togetherness. The concept of ubunto, which originates from southern Africa, roughly means "I am what I am because of who we all are." We are all connected, and it is through our connectedness that we find ourselves, our common human spirit. When one suffers, we all feel pain. When we rejoice, we all celebrate – together. When we start to acknowledge the ways' our lives are intertwined with the lives of those around us, our compassion and kindness grows.
Our guests are at the heart of everything we do. Our staff is committed to providing unparalleled experiences when you are ready to travel again—one that is not only luxurious and memorable but also protects your health and safety while you are in our trusted hands.
This is a wonderful day. I've never seen this one before. ~ Maya Angelou
We believe that Kindness & Caring are contagious – be well, Denise & Ashley
---
Christmas in July…It is HERE! We could all use a little Christmas spirit and a reason to celebrate. What better way to Celebrate than being on a beach with family or friends!
Sunny days are HERE – NOW … And we made it easy to bring everyone together and celebrate special events you might have missed—birthdays, graduations, weddings, you name it. Simply book a room, pay in full, and enjoy a second room for free. Use both rooms at the same time or enjoy your free room to try out one of our other fabulous resorts on a separate vacation—even gift your second room to someone you love or a deserving first responder. Gather everyone and celebrate being together again!
Up to $1,500 USD in Resort Credit for tours, spa, golf, and more.
Kids & Teens Stay Free.
Book with flexibility
Book NOW – this promotion may end without notice
Travel by: December 20, 2020
**Terms & Conditions Apply
---

It is National Sugar Cookie Day, and personally Baking is one of my favorite things to do, I could do it all day every day! I wanted to share one of my favorite recipes with you, in case you want to join in on the fun! If you have a favorite recipe please share it with us, I am always looking for something new to bake!
BEST SUGAR COOKIE RECIPE
Ingredients
1 Cup unsalted butter
1 Cup granulated white sugar
1 teaspoon vanilla extract
1/2 teaspoon almond extract
1 egg
2 teaspoons baking powder
1/2 teaspoon salt
3 cups all purpose flour
Instructions
Preheat oven to 350° F.
In the bowl of your mixer cream butter and sugar until smooth, at least 3 minutes
Beat in extracts and egg.
In a separate bowl combine baking powder and salt with flour and add a little at a time to the wet ingredients. The dough will be very stiff. If it becomes too stiff for your mixer turn out the dough onto a countertop surface. Wet your hands and finish off kneading the dough by hand.
DO NOT CHILL THE DOUGH. Divide into workable batches, roll out onto a floured surface and cut. You want these cookies to be on the thicker side (closer to 1/4 inch rather than 1/8).
Bake at 350 for 6-8 minutes. Let cool on the cookie sheet until firm enough to transfer to a cooling rack.
---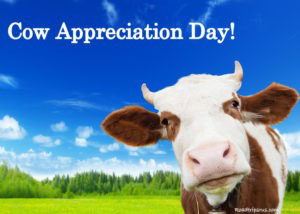 Did you know #CowAppreciationDay – a day full of udderly, mooooving experiences !!
---
SHOUT OUT'S FROM OUR AMAZING CUSTOMERS ~
I wouldn't even dream about using any other travel agency then Travel Concepts. Denise, Ashley and the rest of the team are the best. They truly have your best interest at heart and do everything they can to make sure your travel experience is all you hoped for. Really, they do everything so all you have to do is relax!! ~ Mary Beth
Travel Concepts arranged our week vacation over the Christmas holiday to Le Blanc in Cabo. It was perfection – from the transportation to the room, the service and the property. Total luxury without a single problem or disappointment. The property has exceptional restaurants (I think there are 6) and the grounds are pristine. Having them arrange our flights, transportation and details allowed us to get there with no stress and entirely rejuvenate. ~ Danielle
If you're looking for a travel agent for your honeymoon or destination wedding look no further than Travel Concepts. Ashley and Denise were incredibly professional, helpful and an absolute delight to work with. My wife and I are looking forward to our next vacation and getting another chance to work with Travel Concepts. ~ Dillon