Celebrating the basic and most popular ice cream flavor. Vanilla is so frequently used to flavor ice cream in Europe and North American that many people consider it to be the default ice cream flavor.
The flavor is pure, creamy, and intoxicating … one special experience (and my fave) during this past week in Cancun ~ Mexican Coffee, including a few droplets of the ever-delicious Mexican Vanilla ~ perfecto!
Speaking of Mexico, I just returned from my second business trip, spending a week visiting some of our hotel/resort partners (amigos/amigas). I felt more prepared this time, as I embarked on the health & safety protocols that begin in the airport, on the aircraft and when arriving in Mexico and beyond. I have received various questions from our customers and friends regarding the travel procedures, so allow me to briefly share what to expect when traveling – especially out of the country.
+ Facemasks: they are required when you enter an airport – any airport, and on the plane. This includes children 2+ years, and every human being. I read an article in a travel newsfeed today that airlines are identifying passengers who do not comply (like a no -fly list), and those who do not comply may not be allowed on the plane. Simply put – wear the mask.
+ Bring hand sanitizer, sanitizing wipes, your own snacks, food and you can buy a beverage at the airport once you pass through security. Planes now are seemingly cleaner than ever before. If you are traveling with kiddos, bring activities to keep them busy and consider limitless screen time!
+ Once you arrive in Cancun, go through customs and immigration, you will pass by a thermal temperature station (you barely notice you have passed it). The transportation company welcomes you with masks and/or face shields, sanitizes your luggage before you enter the vehicle. Masks are strongly encouraged while in the vehicle.
+ Arrival at the hotel & experiences: the government has strict guidelines for every hotel to open and operate; the current maximum occupancy is 30% (considered orange zone). As they move forward to yellow, etc. higher occupancy levels will be allowed. Nothing specific on this benchmark at this time. Health & Safety are of the utmost importance: Check in – temperature, sanitizing measures, answering basic health questions; Accommodations – room sanitized, all cups, toiletries are sealed. Restaurants: all tables allow for social distancing; no open food buffets – ala carte only dining. Pools/Swim Up Bars: Open & depending on the hotel, some limitations. Bars/Nightclubs/Fitness Center: depending on the resort, some limitations (one fitness center visited we had to make an appointment, all towels were wrapped in clear plastic). Activities/Excursions: most water sports are operating with limited numbers, some restrictions with other tours & such.
Returning to the U.S. was equally as seamless, and in Missouri/Kansas – no required quarantine.
Overall, the staff at the hotels are doing a great job and are so grateful to be working. Hospitality comes from their hearts and souls, and more evident now. They are wearing the masks, face shields and/or gloves where required – it is what it is. And the guests – mostly from the U.S. – all super happy to be on vacation, relaxing and giving themselves the permission to simply BE!
During this week in Cancun / Riviera Maya, I am grateful to have stayed in 3 different resorts and visited 12 all-inclusive resorts – some adults only. If we are Facebook friends or connected on Instagram, I shared much of my journey.
If you are currently not, here's a brief recap of the fabulous resorts & experiences: Dreams Vista Golf Resort & Spa, Sun Palace Cancun Resort, LeBlanc Spa Resort Cancun, Hyatt Ziva Cancun, Atelier de hotels Playa Mujeres, Moon Grand Resort & Spa, El Dorado Maroma & Palafitos, Margaritaville Island Reserve, El Dorado Seaside Suites, Hilton Playa del Carmen, Unico Hotel Riviera Maya & a hard hat visit to the Nickelodeon Hotel & Resorts Riviera Maya (opening Summer 2021).
Whew – a lot but all so amazing! Sharing a few photos to of my recent Celebra-cation to Mexico … life is a journey!
Our guests are at the heart of everything we do. Our staff is committed to providing unparalleled experiences when you are ready to travel again—one that is not only luxurious and memorable but also protects your health and safety while you are in our trusted hands.
You can't cross the sea merely by standing and staring a the water ~ Rabindranath Tagore
We believe that Kindness & Caring are contagious – be well, Denise & Ashley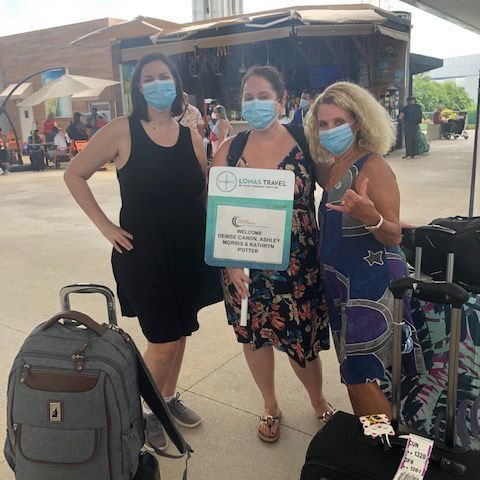 ---
Avocado Chicken Salad:
2 or 3 boneless, skinless chicken breasts
1 avocado
1/4 chopped onion
juice of 1/2 a lime
2 Tbsp cilantro
salt and pepper to taste
Cook Chicken breast until done, let cool, and then shred. Mix with all other ingredients.
---
It is National Vanilla Ice Cream Day! I mean who would not want to Celebrate?? I thought I would share my favorite Homemade Vanilla Ice Cream Recipe.
Homemade Vanilla Ice Cream
Materials
2 large eggs
¾ cup sugar
2 cups heavy cream
1 cup whole milk
1 teaspoon vanilla extract
Instructions
Beat eggs with electric mixer until light and foamy, about 1 minute. Slowly add the sugar and continuing mixing until blended.
Add cream, vanilla, and milk, blending until combined.
Pour into ice cream maker and freeze according to manufacturer's instructions.
For firmer ice cream, transfer ice cream to a freezer-safe container and freeze for 4 to 6 hours.
Notes
Make 1 quart liquid and about 1 ½ quart frozen.In the Cuisinart Ice Cream 2 quart machine, this takes approximately 30 minutes to freeze into soft serve.
---
SHOUT OUT'S FROM OUR AMAZING CUSTOMERS ~
7/21/2020 Just returned from From my Vacation at Dreams Playa Resort in Cancun Mexico. If anyone is worried about travel I can assure you they resort follows the most stringent cleaning process. I did not feel my health was compromised in the least. About the resort, It was beautiful. I was treated like royalty. The food was amazing and everyone was so friendly. I do recommend taking the bicycle tour and the Zumba class at noon in the pool at noon. Thank you again Denise, Ashley and Travel Concepts!!! Have fun and relax!!I wouldn't even dream about using any other travel agency then Travel Concepts. Denise, Ashley and the rest of the team are the best. They truly have your best interest at heart and do everything they can to make sure your travel experience is all you hoped for. Really, they do everything so all you have to do is relax!! ~ Mary Beth
Travel Concepts arranged our week vacation over the Christmas holiday to Le Blanc in Cabo. It was perfection – from the transportation to the room, the service and the property. Total luxury without a single problem or disappointment. The property has exceptional restaurants (I think there are 6) and the grounds are pristine. Having them arrange our flights, transportation and details allowed us to get there with no stress and entirely rejuvenate. ~ Danielle
If you're looking for a travel agent for your honeymoon or destination wedding look no further than Travel Concepts. Ashley and Denise were incredibly professional, helpful and an absolute delight to work with. My wife and I are looking forward to our next vacation and getting another chance to work with Travel Concepts. ~ Dillon