Happy November!!
I hope you all are ready for the busiest time of the year!! No sooner than we finished with the pumpkins, gouls and goblins … the season of FA LA L LA LA is in the air and everywhere. SO many changes … Daylight Savings Times goes away (sad face) ~ Thanksgiving celebrations abound with family and friend gatherings ~ with the final Holiday Season of the Year and then into the New Year! From visions of sugarplums dancing in your heads, spotting the infamous Elf on the Shelf, and possibly including more traditional cultural or religions celebrations – most of it always revolves around Family & Friends!
At Travel Concepts our thoughts and opinions differ a bit – one not exactly ready for the explosion of Christmas on the heels of Halloween – while the other hardly containing herself to deck the halls and home with the Christmas Holiday theme abound! Whatever your fancy – we hope it brings you SO MUCH JOY & HAPPINESS!! As we enter this busy season, be mindful of self-care, and taking the time to slow down and enjoy each day, each special moment.
We're here to assist with your gift giving during this Holiday Season – The Gift of Travel is one size fits al!! Consider the Travel Concepts Team your personal holiday elf – Not knowing where to begin? Let us share a few tips:
Here are 3 TIPS to consider ensuring your travel gifting goes off without a hitch….
Tip #1 – Keep it open-ended. Unless you're positive someone can depart on the exact dates you decide, it's better to keep things flexible.
Tip #2 – Instead of pre-booking, gift a token that represents the trip, then plan the details with the person you're gifting. We recommend wrapping up a guidebook or a travel brochure with a card explaining what your gift includes. When working with your travel advisor, we'll determine all the fun details with you!
Tip #3 – Make them a part of the process. If you're thinking of surprising your children with a trip, consider selecting the destination but allowing them to be a part of the itinerary & experience planning! . The anticipation of your Celebra-cation® is the best part of all! And there you have it. With those three tips, you're well on your way to providing the ultimate gift of love!! Was this helpful? Hit reply on this email if you have any questions about how to design your travel giftl. Happy Holidays!
IS HOLIDAY GIFTING YOUR JAM?
THERE IS ALWAYS SOMETHING TO CELEBRATE, AND IT WOULD BE OUR PLEASURE TO DREAM YOUR TRAVEL DREAMS & ANTICIPATED EXPERIENCES DESIGNING A WOW CELEBRA-CATION® FOR YOU!
NEED SOME INSPIRATION ?? SCHEDULE A COMPLIMENTARY CHAT – WE GOT YOU!!
Wishing you peace, health, happiness & love ~ Denise, Ashley & Annika
GET INSPIRED. FOLLOW US: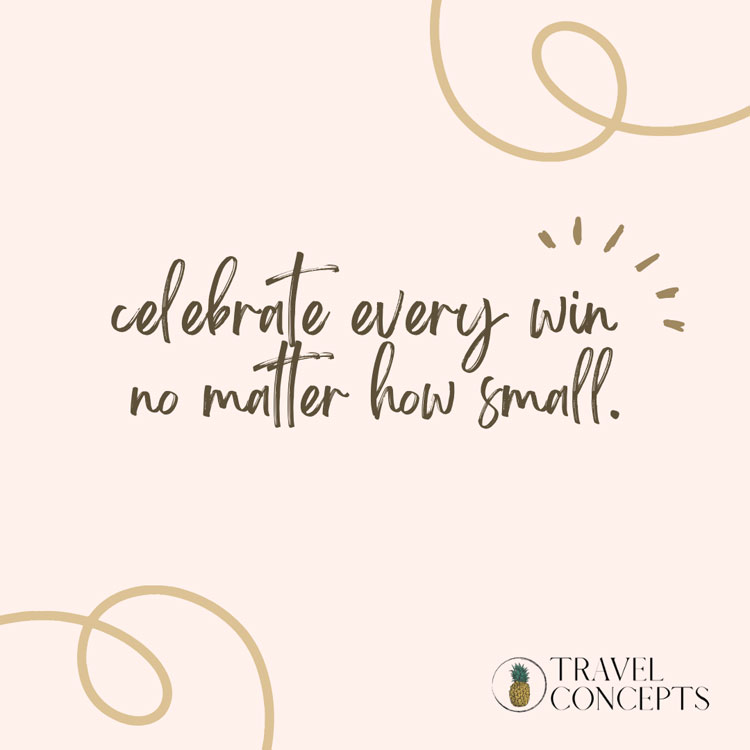 SHOUT OUT'S FROM OUR AMAZING CUSTOMERS ~
Ashley did a great job putting together an itinerary based on our likes and dislikes. Working through the details was smooth and easy. We spent three weeks traveling through Italy, Munich, and Spain and had the best time. The online app provided was a great tool to know where and what we were doing. We will definitely be calling Ashley again when we do our next big trip! ~ Pam
We could not have had a better planner and trip organizer than Ashley Jessee! She was professional, personable, and creative! She found a way to meet all of our needs and our trip was perfect! We traveled to Cabo San Lucas in May 2021 for our wedding anniversary and Mom's Day gift for my mom and we did not have to figure out ANYTHING!! We can't wait to use her and Travel Concepts again! ~ Mel
For more travel tips like these, or to chat with us about your next Celebra-cation® click below to get in touch!