EXPERIENCE BREATHTAKING CAP CANA BEACH
CAP CANA, DOMINICAN REPUBLIC
DAVIS ~ ANTHONY WEDDING CELEBRA-CATION™
SATURDAY, JANUARY 29 ~ 7:00 AM

Advance Reservation by Friday, July 30, 2021
Guaranteed Group Rates
From the Bride & Groom ~
We met at the Black Alumni Ball in Washington, DC, August 10, 2019. Just a week later, he stole my heart with his confidence, his smile, his bear hugs, our movie-like dates, our gut laughs, and our deep conversations. And now, almost two years later, God has blessed me with unconditional love through him.
When we met, I had no question about my intentions, and she proved to be more than the blessing I asked for. Her kind, loving, & selfless spirit gives me vibes like 'Angel' & 'My Queen'. We have made it here, embarking to create a kingdom family built in true love. So, join us as we exchange our vows at…
Sunrise- The promise of Time
Time to be grateful
Time to forgive
Time to choose wisely
Time to become who we want to be…
More grateful for blessings
More accepting of others
More Christ-like in agency
Sunrise-The Promise of More…
Love, Candace & James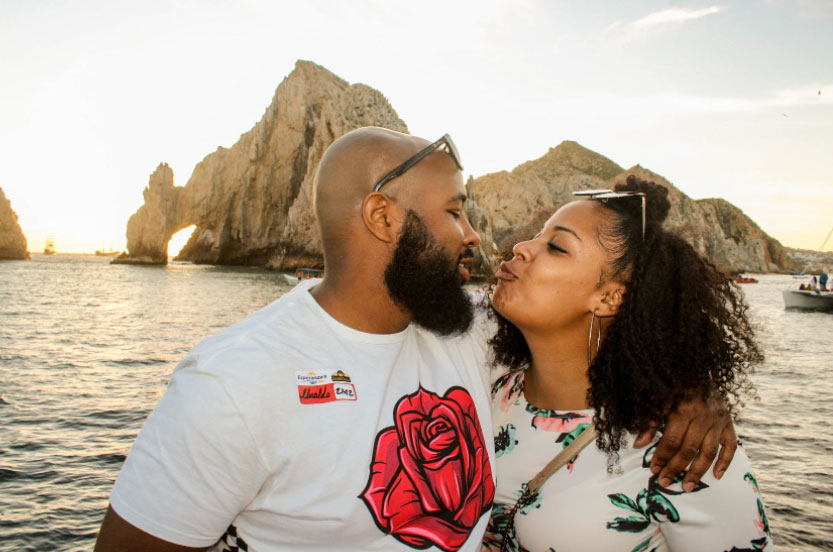 Join CANDACE & JAMES to celebrate this special event — their Destination Wedding!
Hyatt Ziva Cap Cana
Save the Date: SATURDAY, JANUARY 29, 2022
DAVIS ~ ANTHONY DESTINATION WEDDING
Travel Concepts has customized a travel package for your consideration. Should your desired dates of stay be different than what is presented, let our consultants know ~ we are pleased to design a vacation experience to best accommodate your specific dates.
THE GROUP CUSTOMIZED TRAVEL PACKAGE INCLUDES:
LAND PACKAGE:
Accommodations for 3 through 7 nights at HYATT ZIVA CAP CANA, providing your specific room category, SINGLE/DOUBLE/TRIPLE/QUAD occupancy & CHILD RATES, including applicable hotel taxes & service. All-inclusive features provide: all beverages, meals, taxes, gratuities, non-motorized water sports on property.
Round-trip shared airport to resort transportation (private transfers are available by request, at an additional cost).
All travel arrangements professionally managed by Travel Concepts, Inc.

OPTIONS TO CONSIDER:

Travel Insurance ~ Activities/tours/sightseeing.
Full Service Travel Consulting & Management Company
Phone: 913-888-1671 / Toll-free: 877-200-4690
www.travelconceptskc.com
GROUP TRAVEL SERVICES
This travel program has been negotiated and coordinated with separate vendors as a GROUP, and additional suppliers and vendors who are part of this program in its entirety. A 'group' consists of a minimum of 10 rooms at the resort. Specific TERMS & CONDITIONS, including applicable cancellation/change policies will be presented in each passenger's detailed travel confirmation/contract. Deposits/payments on account, once received, are non-refundable/non-transferable. Balance payment due date: Friday, October 29, 2021.
Travel Concepts, Inc. acts only as agent for all suppliers, and their responsibility is limited. A room block contract has provided rooms which encompass the dates: January 25 – February 1, 2022. Guests are accommodated for any number of nights during this time frame (a minimum 3-night stay is required) ~ and a time frame prior or after these dates, based on availability at the resort, and the confirmation of applicable rates. Specific number of rooms per room category have been contracted and confirmed for this group. Should the maximum capacity in a room category become sold, Travel Concepts, Inc. will request additional rooms at the same rate; however, additional rooms will be based on actual availability at the time of a revised contract.
ALL RATES ARE PER PERSON, PER # OF TOTAL NIGHTS, PER ROOM OCCUPANCY
All Rates are Per Person Rates, depending on the length of stay & room category
Single occupancy = 1 adult in the room
Double occupancy = 2 adults in the room
Triple occupancy = 3 adults in the room
Quad occupancy = 4 adults in the room

** All Child Rates are only applicable with 2 paying adults in the room
Club Ocean View Junior Suite
KING – 17 ROOMS
DOUBLE – 3 ROOMS
Enjoy ocean views and exclusive club access when you stay in a 600-square-foot space with balcony, separate shower, one king or two queen beds, and a queen sleeper-sofa.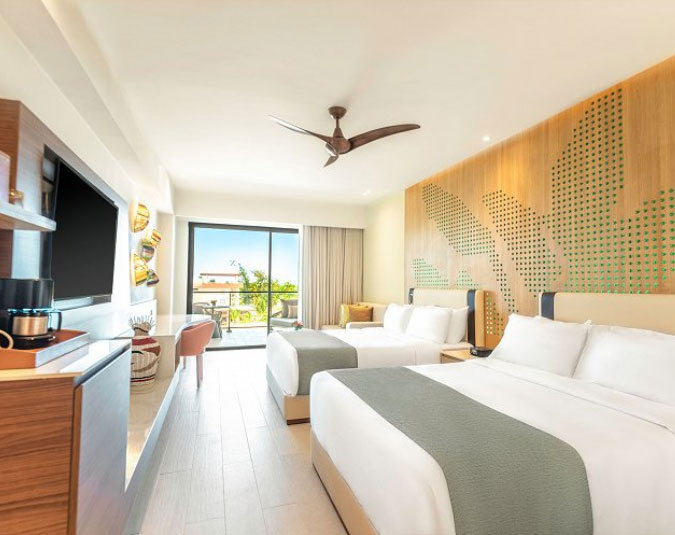 Junior Suite Swim-up
KING – 3 ROOMS

Walk outside this swim-up and leap straight into a semi-private pool; the 600-square-foot room also has a separate shower, king bed or two queens, and a queen sleeper-sofa. Guest for ages 13 and older.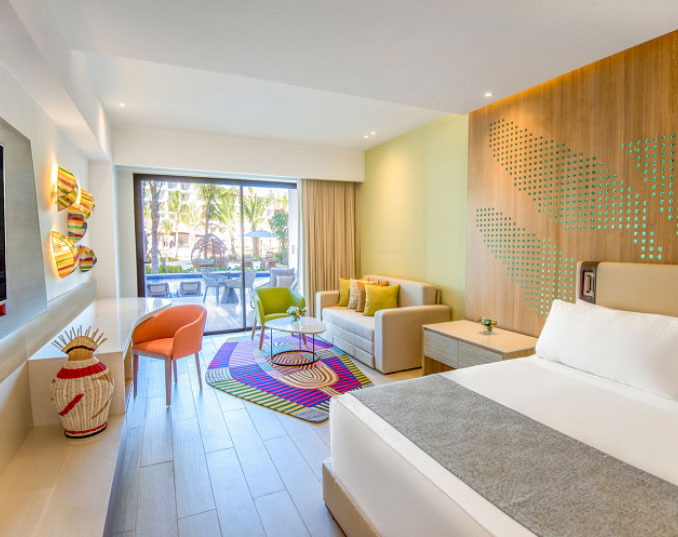 Club Junior Suite Swim-up
KING – 4 ROOMS
DOUBLE – 4 ROOMS

Relax in our exclusive club or a semi-private pool outside this swim-up, which spans 600 square feet and has a separate shower, two queen beds, and a queen sleeper-sofa. Guests ages 13+ only in swim-up.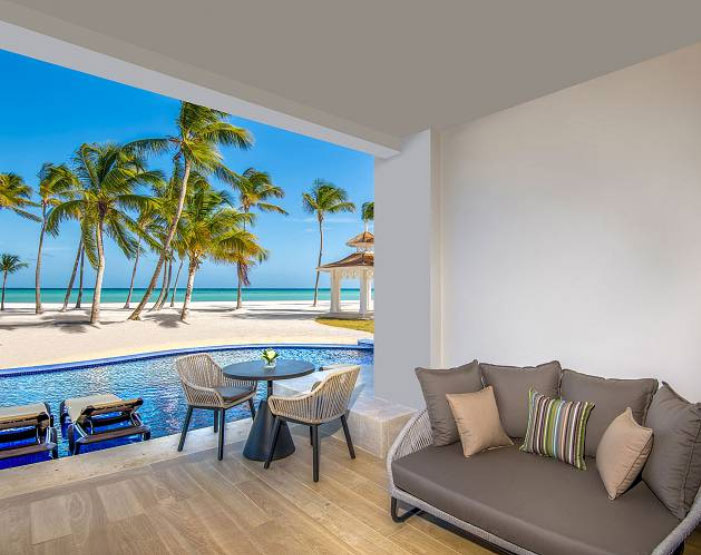 Ocean Front Junior Suite
KING – 6 ROOMS
DOUBLE – 5 ROOMS

Watch the waves roll in from a 600-square-foot junior suite with a furnished balcony, a separate shower, one king or two queen beds, and a queen sleeper-sofa.
RESERVATION DETAILS ~ VERY IMPORTANT
Travel Concepts website provides a seamless & secure opportunity to provide your details.
COMPLETE FOR YOUR STAY: Online reservation & credit card payment – located at the bottom: BOOK NOW
There are 5 sequential steps to complete before you can submit:
Passenger(s) Information:
Who is your travel agent: Ashley Jessee
How did you hear about us: Wedding Guest
Other Passenger Information to include
Contact Information: include your information
Trip Information:
Resort: HYATT ZIVA CAP CANA
Travel Dates: Include your dates (make sure they match your air travel dates)
Room Type: Include your room category **If you prefer a different room category-
Please include this request**
Vacation Type: Destination Wedding Guest
Air: Email your airline itinerary to

[email protected]


Insurance: Yes or No – if yes, we will provide you a quote & wait for acceptance
Payment Information/$150.00 per person due: please include your information
Additional Information—VERY IMPORTANT
Include any special remarks / requests ~ Food/Medical Allergies
SUBMIT: This information will create your profile and provide all details required to confirm YOUR reservation. We will be automatically notified when your reservation is submitted; a reply will be provided to acknowledge receipt.
CONFIRMATION/VACATION CONTRACT/INVOICE: Provided to each traveler; once submitted, please expect to receive your emailed document within 7 business days after receipt.
PAYMENTS: Due at time of reservation; all payments are non-refundable/non-transferable.
CHANGES: Made after the original confirmation are subject to a $50 per change fee (subject to change per supplier) **no changes accepted within 30 days of travel.
OTHER PAYMENTS: You are welcome to make additional payments after the initial deposit and before the balance payment – this can be accomplished online!
PRIVATE TRANSFERS AIRPORT TO RESORT: Please inquire if you would like a quote.
BALANCE PAYMENT: Due by Friday, October 29, 2021.
PASSPORTS: Required for travel to DOMINICAN REPUBLIC; legal/complete names on your passport must match your airline transaction. MUST include 6 months post travel validity (travel in January, valid at least through June). IMPORTANT: Please scan/email YOUR passport(s) to Ashley Jessee /

[email protected]

.
TRAVEL INSURANCE: If you include this option, we will process your insurance policy and mail to email to you. Important to travel with your insurance policy.
OPTIONAL TOURS/EXCURSIONS: If you include any options, you will receive a final confirmation in your travel documents.
FINAL TRAVEL DOCUMENTS: All final travel documents will be mailed to all travelers approximately 3 weeks prior to travel.
ADDITIONAL INFORMATION: Please provide further details about your anticipated experience or if you have questions – we will follow up with you!
Book your trip or make a payment using the secure forms below.
Phone: 913-888-1671/Toll-free: 877-200-4690
www.travelconceptskc.com