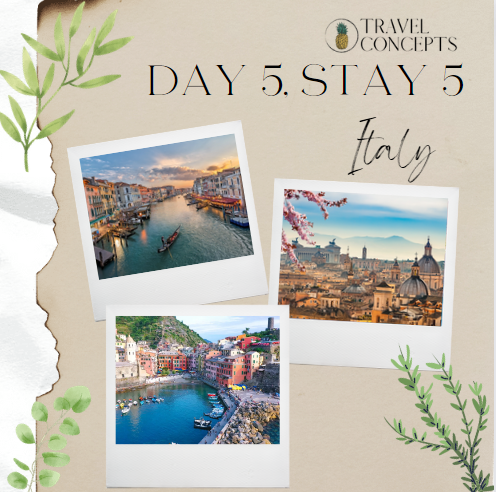 STAY FIVE ~ ITALY
Landscapes that will take your breath away, rich history, and delicious food, your trip to Italy will be nothing short of unforgettable.
Get ready to explore beautiful destinations, learn about ancient cultures and savour the most loved cuisine in the world. History, art, sport, relaxation, well-being and above all food for the body and soul. Italy is the ideal Country in which to relax and recharge, without sacrificing any fun.
There are many compelling reasons to travel to Rome, Florence, and Venice, Italy. Here are a few: Each city offers its own unique experiences. In Rome, you can explore ancient ruins and enjoy world-class shopping. Florence is the birthplace of the Renaissance, and you can immerse yourself in art and architecture. And Venice, of course, offers the chance to experience a city that is completely built on water. Overall, traveling to Rome, Florence, and Venice is an opportunity to experience some of the best that Italy has to offer. Whether you're interested in art, food, history, or simply soaking up the atmosphere, you're sure to have an unforgettable trip.
One look at the Amalfi Coast and you may believe that you've found heaven on earth. That's the kind of spellbinding effect this stretch of Italian coastline tends to have on the 5 million annual visitors who cross its mesmerizing paths. Sky-high costal cliffs display vibrant vegetation and multicolored towns live side by side with the disarming turquoise waters of the Mediterranean.
Sorrento, Italy is a stunningly beautiful destination that offers a unique combination of breathtaking scenery and rich cultural experiences. Sorrento is known for its stunning cliffside views of the Mediterranean Sea, picturesque cobblestone streets, and its abundance of historic sites. With its mild climate, Sorrento is an ideal destination for outdoor activities such as hiking, biking, and swimming.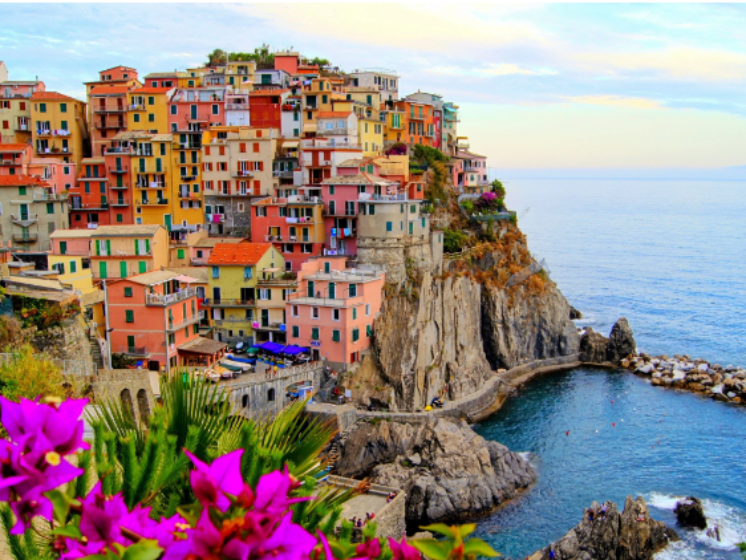 IS ITALY CALLING YOUR NAME?? Let us help you plan the perfect bucket list Celebra-cation!
Have questions about how we can work together? Shoot us an EMAIL!
Wishing you peace, health, happiness & love ~ Denise, Ashley & Annika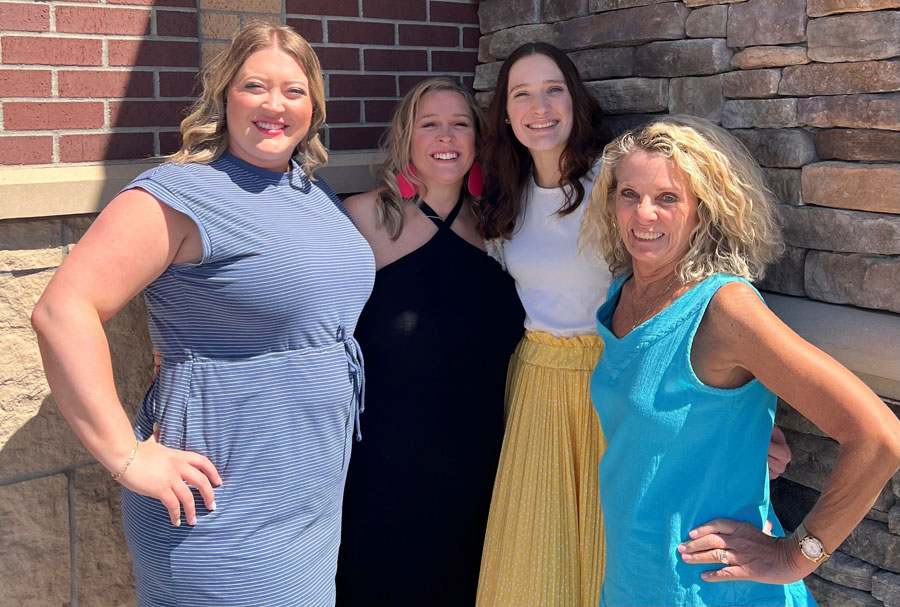 SPRINKLES OF SUNSHINE & SMILES FROM OUR AMAZING CUSTOMERS

Ashley helped us every step of the way for our first international trip to Italy. The hotels booked were gorgeous and had everything we could've asked for. The tours were phenomenal, the guides Ashley booked knew everything and were extremely personable. The app they provided us with had our entire itinerary with our transportation tickets linked and the exact time and spots to meet people. I looked at it for information everyday. I can't recommend Travel Concepts KC enough. If you want everything to go smoothly on your trip and more, this is the place to do that ~ Brook
Ashley did a great job putting together an itinerary based on our likes and dislikes. Working through the details was smooth and easy. We spent three weeks traveling through Italy, Munich, and Spain and had the best time. The online app provided was a great tool to know where and what we were doing.
We will definitely be calling Ashley again when we do our next big trip! ~ Pam